CUSTOMER FEEDBACK
We are extremely proud of our excellent customer feedback. Here is a summary of the latest feedback from our eBay shop:
In 2020 Biteback was vetted and approved by Wiltshire Council Trading Standards, and we were invited to join their 'Buy with Confidence' scheme, which is awarded on the basis of exemplary customer service.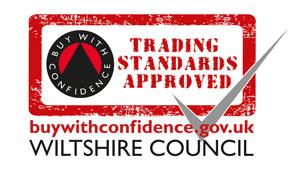 And here are just a couple of comments from our customers:
"I bought Ellie for my daughter in winter and, in th
e spring, was disappointed to see her skin so irritated, rubbing off most of her mane and tail despite using a fly rug. Since discovering Biteback Sweet Relief, Ellie's desire to rub her tail and mane has been significantly reduced with just two applications per day. I would certainly recommend it."
Dorthe Joyce (Veterinary Surgeon MRCVS)
"In a few hours the relief in Riley's eyes brings tears to my eyes it's so soothing on his skin...and the spray bottle helps me get in the hard to reach places . I'm so thrilled...you now have a loyal customer in me and as a dog behaviourist I will promote your products and dedicated services." Antoinette Walker

"We bought the Flowers & Zinc powder from you for our Bedlington Terrier, who has one irritated paw. It has been like a miracle! Loki is no longer licking in between his toes, and the skin is looking so much better. Less red and no longer sore. I am just putting a light dusting between the two affected toes twice a day. He has allergies. Thank you so much!" Sue & Loki

Please see our Facebook page for further customer feedback, and Frequently Asked Questions. We would love to know what you think of our products, please leave a review.