FREQUENTLY ASKED QUESTIONS
Q. There are a lot of products on your website. Which should I use?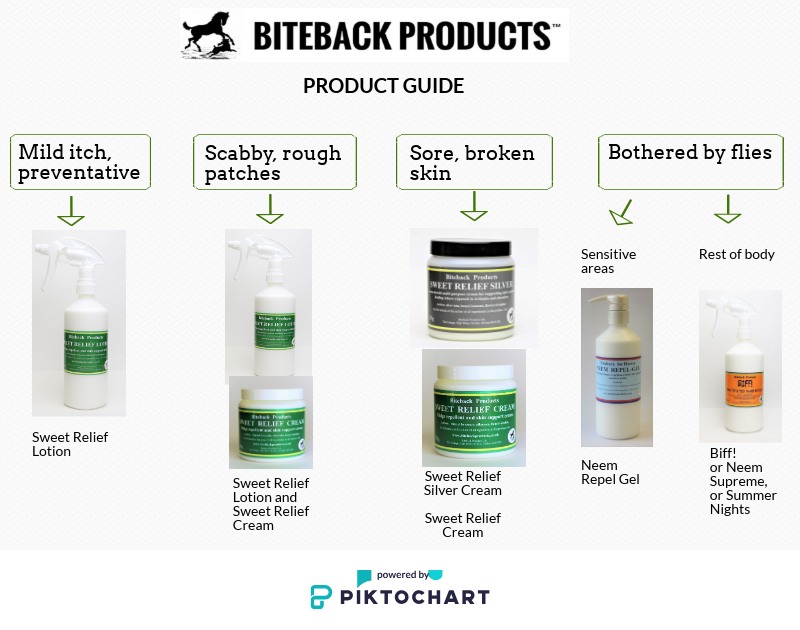 You may find this product guide useful. If you're still struggling, drop us an email or call us - we are happy to help.
Itchy Horses
Q. My horse suffers itching caused by midge bites. Which of your products would you recommend?
A. It depends on the severity of the skin's condition. What we would do with our horses is: if there are any open lesions, begin by using Sweet Relief Silver cream on those specific areas and spray the surrounding affected areas with Sweet Relief Lotion, rubbing in with fingers or rubber curry comb. If things are a little less severe, use the Sweet Relief Cream on the worst bits instead of the Silver plus the Lotion as above. If still fairly mild, just use the Lotion. Initially, use twice a day, late afternoon/early evening being the most important. When under control, you can reduce to just that once a day. The most important thing is that you must be quite fanatical about applying every day. We apply to ours from mid-March until late November and he stays perfect without any other protection. Miss a day and those midges will be straight back in and kick the symptoms off again.
Q. I've used your Sweet Relief lotion before and have just started to use it again now the weather has started to change. I've noticed tonight that an application that I put on earlier in the week has led to virtually all of the skin on the crest of the mane shedding off in large pieces. I've also noticed that in some areas the skin has almost gone slightly thick / scabby. Can you let me know if this is something you expect after the application of the product.
A. The flaking skin is a normal process when you apply the lotion to skin that has built up a bit of thickening from previous exposure to bites. The flakes of old skin that slough off can be quite large and unsightly but they are cosmetic and will brush out and gradually be replaced by healthy new skin. However if the skin becomes more irritated, reddened or broken after application, then there's a chance that your horse is reacting to something in the lotion and you should contact me to discuss the next step.
Q. I have a Fell pony who is extremely itchy, his skin was red raw all over when I was given him. Last year I kept his itch under control with a Boett rug and face mask and by using benzole on his legs and Neem oil inside his back legs and sheath. After reading about your products I ordered Sweet Relief lotion and have been using it on him once a day ( 3-4pm) up until 4 days ago no sign of any itching and them suddenly overnight he has itched his mane and around his eyes.
Can you advise me how I should be using your products to try and help him stay comfortable?
A. I wonder whether you need to step up the strength of the treatment a little for times such as these by trying the Sweet Relief cream? This goes on a bit thicker but is still very easy to apply as it is an aqueous cream. It doesn't make the hair excessively greasy. You use it in the same way - massaging in with fingers.
Q. I've been using your Sweet Relief cream and spray on our pony. He's been doing really well and has not had to wear his fly rug that much this year. However, having concentrated on his mane and tail areas I have not focused on his face. He has suddenly had a horrid flare up under his forelock and where his star is, it's very sore and hot. I'm trying a variety of things to try and calm it down. Last year coconut oil worked well to soothe and soften the scabs. I've put Sudocrem on it, your Sweet Relief cream and also tried Flamazine this morning. I've even tried spraying on colloidal silver water. I just wondered if you have anything else I could try?
A. Our spotted pony has started to get an itchy face and brow this summer. I found him with a horrible bright red bloody rub on one side of his face a few weeks ago. I bathed it in a bit of warm water with bicarbonate of soda and a splash of vinegar to calm things down a bit. Dabbed it dry. I powdered it a bit to finish drying (I use Biteback Flowers and Zinc) then applied our Sweet Relief Silver. It scabbed over by next day and by the 4th day was lovely and dry and well on the way to healing. I still apply Sweet Relief Silver to the area once a day and am using Sweet relief cream on both sides and under forelock morning and evening, just to relieve the itch and stop it happening again. Sounds as if you are doing similar things. My motto is don't panic and try a lot of things at once but keep it simple so you don't make things worse. If you try something new, give it a day or so to work before abandoning it, unless of course, it has exacerbated the condition.
Feather Mites:
Q. I have a very feathery pony who is also itchy, I have seen Neem oil advertised & wonder if it could help - the problem is she is very young & from a rescue centre & is hating anything smelly around her feet, & mane. I also want something that will make brushing feathers easy, & silky.
A. I think regular spraying and massaging into the skin of our Sweet Relief lotion should shift them. It is very gentle at 13.5% benzyl benzoate (acaricide - kills mites), skin conditioning and pleasant smelling so should do what you want. If she is afraid of sprays you can sponge it on or you can use Sweet Relief cream which also massages in very easily as it is an aqueous cream and is very light.
Scabby Skin, Mallenders & Sallenders:
Q. My mare suffers with really itchy legs, and scabs behind her knees - I have tried numerous products (including injections from the vet for mites) but nothing seems to work. I have looked at your website but can't see any products specifically for treating itchy legs. Do you sell any products that may ease her itchiness? I feel so sorry for her as it must be so uncomfortable.
A. This is the 3 step process that we would follow daily:
Firstly, clean the affected area thoroughly by spraying it with Quick-Silver lotion. Remove any excess lotion with a clean cloth. The next step is to try and get the area as dry as possible. We would personally use a wad of cotton wool, followed by a drying powder (Flowers & Zinc).
Finally we would dab either our Sweet Relief Silver cream or Mudbar Plus cream on to any open sores or particularly stubborn scabs.
Keep up the regime daily for 2 weeks, you should see a significant improvement during this time. Once any scabs/ crusty bits have cleared and the skin is looking pink and healthy underneath, you can revert to just the Quick-Silver, or a good waterproof barrier cream such as Mudbar, to help prevent re-occurence.
Itchy Skin in Dogs
Q. My dogs are at their itchiest at this time of year. There is no loss of hair and their skin is not dry or flaky. i can only conclude it is irritation caused by grass mites for similar. Will Sweet Relief Dog Cream work on mites or would you recommend the flea and tick spray?
A. We would suggest that you might be better with our Biteback Sweet Relief Lotion Spray. It has the same active ingredients as the cream, but would be easier to apply on the whole dog (avoid eyes!). We would use the cream on specific smaller problem areas, such as feet or areas or eczema.
Use of products
Q. How do I know that your products are safe to use on my animals?
A. Please see our ingredients page for a full list of what we use. We take great care to select innocuous, hypo allergenic products, and avoid detergents, alcohol and parabens, so it's highly unlikely that you will experience an allergic reaction. However, we always advise a patch test when trialling a product for the first time.
Q. What if your products do not work for me?
If you've carefully followed the instructions on how to use the product and still see no effect, please give us a call and chat to us in the first instance. We will try our best to help.
International Shipping
Q. I saw your products on a Facebook page from the UK. Do you ship to the USA?
A. Unfortunately, the current terms of our product liability insurance prevent us from knowingly selling to North America - anywhere else in the world we are fine for. However we are completely transparent about the ingredients of our products and they are listed on our website. That might give you a good indication as to what you might be looking for in products that are available there.
Q. Do you have any international distributors?
A. Yes you can buy the Sweet Relief lotion and cream from Grosvenor Park Products who are the distributor for Australia and New Zealand. Garland Equine are our distributors in Africa - contact lizelle@garlandequine.co.za.